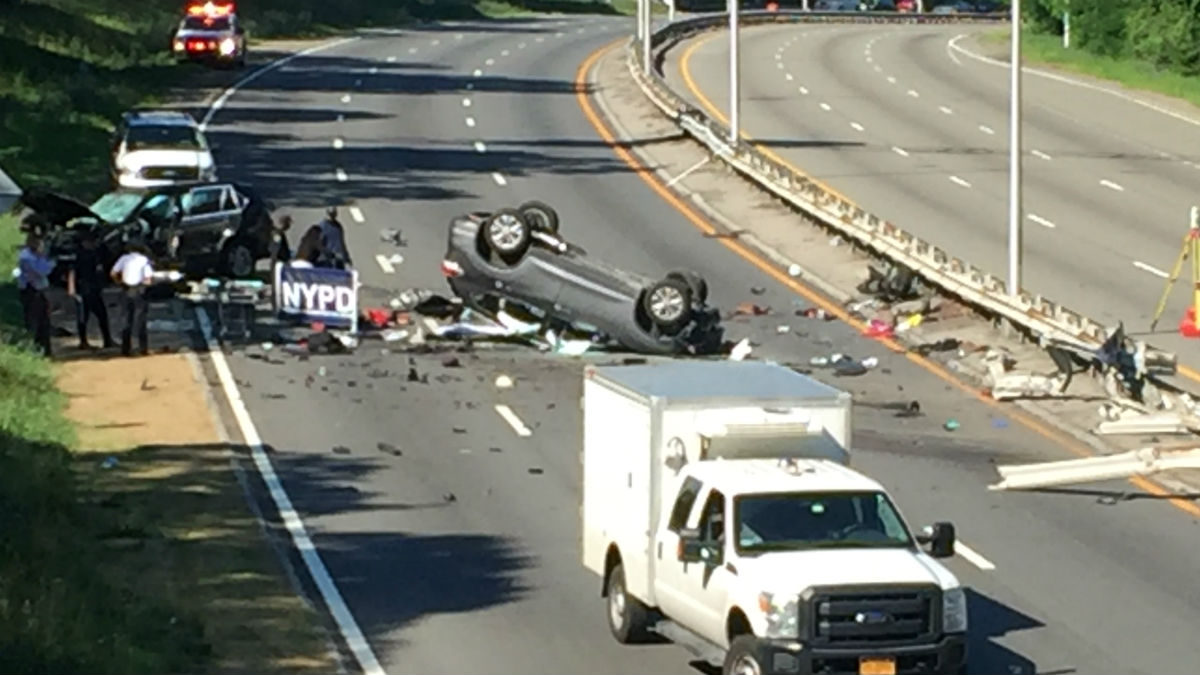 A man is facing a slew of charges in connection with a horrific crash that killed two people and injured seven others on a highway in Queens, police say.
A BMW SUV was traveling west on the Grand Central Parkway early Sunday when it sideswiped a car and lost control, according to the NYPD. Police said it crossed three lanes and hit another SUV, causing both vehicles to hit a guardrail, cross into the eastbound lanes of the highway and roll over. The BMW then hit another SUV on the eastbound side.
Police said a fourth vehicle swerved to avoid being hit when it lost control and went up a shoulder embankment, hit two trees and rolled onto the driver's side. 
The driver of the BMW, 33-year-old Andrew Shakespeare of New Jersey, was taken to a hospital with a head injury, police said. Shakespeare was arrested and faces numerous charges including two counts of manslaughter, two counts of aggravated vehicular homicide, two counts of vehicular manslaughter, three counts of reckless endangerment, reckless driving and driving while intoxicated, according to police.
The front passenger, identified as 34-year-old Layon Campbell of Brooklyn, and another passenger, 16-year-old Akeam Grant, who was ejected from the BMW, died, police said. Two other passengers inside the BMW were injured.
Akeam was not wearing a seat belt, according to police.
Five people in the other vehicles involved also were hurt and are all at area hospitals, where they are listed in stable condition, police said.
The relationships between the passengers of the BMW was not immediately known. 
All eastbound lanes were shut down for more than seven hours while officials investigated the crash.
Published 3 hours ago | Updated 18 minutes ago